Bock compressor units & Compressor blocks
In this page you find the available Bock compressor blocks, chillers and compressor units based on Bock compressors in our network . contact us for more information. you can download the full description 
Compressor block Bock FX 14/1366 overhauled
general
1 bare Bock compressor FX 14/1366  block available.
Also new spareparts
Compressor block Bock F14/1366
general
3 bare Bock compressor blocks available.
model F14/1366
Bare compressor block Bock HG4/555-4S unused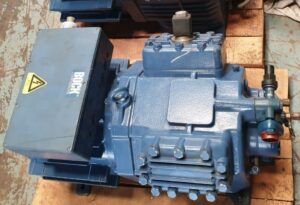 general
2 unused Bock compressor model HG/555-4S available
These units were spare compressors for a plant.
The quality of eh bock compressor were in reality , that they were never needed.
Details :
I max: 30 A 
I block: Y 107 A  YY 140 A
P max : ND( LP) / HD/HP : 19/28 bar
IP65
oil/Öl : sp46
380V-420 V -3 phase -50 Hz –1450 RPM – swept volume : 48,2 m3/h
440-480 V -3 Phase-60 hZ -1740 RPM- sweptvolume: 57,8 m3/h