Sensors in the refrigeration & industry
In this page you find sensor , which are helpful in your Refrigeration process.
Liquid level wire sensor HBL-T wire sensor
general
install recommendation
install recommendation marine
general
The HB L-t wire sensor is a very compact design. The only height for installation is 115 mm , due to split sensor design.  The  wire is teflon coated , therefore no risk on faulty alarm by contact with piping.  suitable  for marine applications. 


A successful solution for level indication is the HBT the wired sensor , this sensor is easy to install and is suited with a separate electronically head and measurement sensor.
HBLT-wire is a capacitieve sensor for level measurement of NH3 refrigerant in industrial refrigeration systems.
The sensor has an output signal of 4-20 mA, which is proportional with 0 and 100%. Its output signal is 4 mA for an empty tank and 20 mA for a full tank.
 It can be used as a level sensor, or it can be used as a combined level sensor and direct P-regulator of modulating valves e.g. level regulation in a chiller or plate heat exchanger
Adjusting to your situation:
HBLT-wire can be adjusted in length to the current application.  
The sensor element consists of a 2mm steel wire as well as a Teflon tube.
Both parts are provided with a length of 4m and can be shortened with diagonal cutters or other pliers.
In cases where the customer wanted to configure the sensor, the target of a maximum of 5 minutes was achieved. There are only two parameters to set up in order to use the sensor for level measurement, which is a process that can easily be carried out in less than 5 minutes  
install recommendation
install recommendation marine
technical details
technical details 2
Design benefits
technical details
Technical details and features HBT-wire sensor

Connection

¾ inch BSP or ¾ inch NPT

Refrigerant

Designed for NH3 and HFC refrigerants : R22-R134A, R404A, R410A, R507 & R718

Suitable for Marine applications

The measuring wire is coated with Teflon, therefore no measuring fault  due contact with tank nor pipe  possible and suitable for sailing in rough water on vessels.

Configuration

Easy configuration for refrigerant and length  

Split Design

The electronic part  and measuring wire are separate for easy install and service 

Sensor

The wire is adjustable in length of 600 to 4000 mm. easy to calibrate.

Dead zone

0 mm

Led display

Showing liquid level in percentage

Alarm out put

1 alarm can be set between 10 till 100%

P-regulation of valve

The possibility  for direct regulation of modulation valves, pilot valves of step motor valves
technical details 2
Design benefits
Universal Liquid level sensor for al kinds of liquids also refrigerants

Was previous know as AKS 41
general
Dimensions metric
Dimensions inch
Approvals
Technical data
general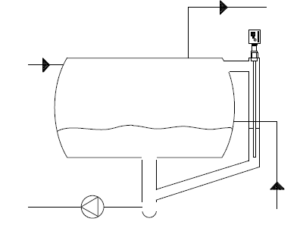 In the refrigeration industry this liquid level indicator is well-know  his previous name was AKS41.  Basic he is one on the most flexibel liquid  level sensor, I personally worked with .  In the refrigeration industry were we have liquids , which can easy transfer into gas and create a turbulent liquid bath this sensor is complete adjustable  to your situation .  Even for the refrigeration industry  are the most common refrigerants pre-programmed .
Adjustable are the media, min/ max level  and signal damping from 1- 120 seconds.
The sensor is designed as split sensor. powered by 24 VDC and out 4-20 mA.
There are two versions available :  with local led indication  bar and without.
Any questions contact us.
Dimensions metric
Dimensions inch
Approvals
Technical data
Electrical connections
Procedure to set the refrigerant
Procedure to set the signal damping
procedure to set the min/ max level points
Return to factory setting
Electrical connections

Procedure to set the refrigerant
Procedure to set the signal damping
procedure to set the min/ max level points
Return to factory setting